NanoMicro®


NanoMicro® Dental Implant System
AIDI Biomedical continually seeks to develop comprehensive solutions to industry-wide clinical problems within dental implantology.  With our new, advanced implant systems we can provide the very best in implant stability and surgical implant rescue.  The Bioperfect® Implant Systems is THE viable solution for cases with minimum vertical bone height, tissue recession and implant exposure.
AIDI®  Dental Implant System
Two-Piece Implant System | SBM Surface Treatment
Platforms and Diameters
Available Platform Diameters:
3.0mm
Available Body Diameters:
3.3mm and 3.7mm
Available Body Lengths:
8.8mm, 10.5mm, 13.5mm, and 16.0mm
NanoMicro®Dental Implant System
The NanoMicro® dental implant may be utilized in cases of a dental implant failure or when there is a lack of buccal plate. This option is available due to the smaller diameter platform which allows a clinician to place an implant within regions of minimum bone, such as the interradicular or palatal bones. This implication also applies to areas with minimum mesio-distal space, in minimum distances between two teeth and minimum distances between two roots. NanoMicro® dental implants may be placed within narrow ridges, without causing damaging buccal plates. The prevention in surgical damage is attributed to an ability to place an implant within under-prepared areas of alveolar bone.
Another potential benefit of the NanoMicro® implant system is the option to allow for a change in implant angle placement . Since the implant body is narrow, the implant can follow the path of available bone to ensure better initial stability. This narrow implant design is also why our NanoMicro® dental implants allow for implant site relocation.

 shop online 
Practice Building Kit
Packaging
Includes:
AIDI® Dental Implant
Fixture Mount Abutment
Replica
Abutment Screw
Cover Screw
AIDI® Internal Connection design requires a AIDI Biomedical Micro Hex Driver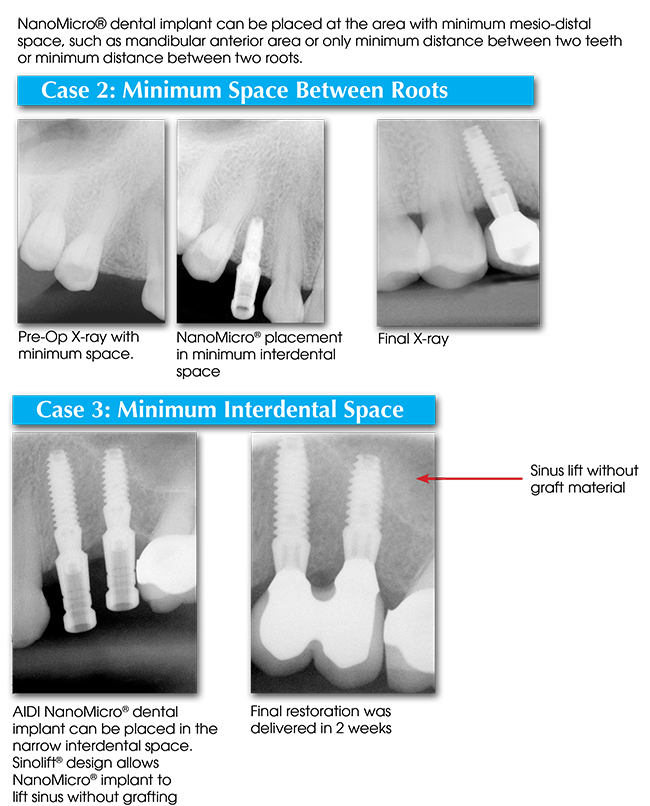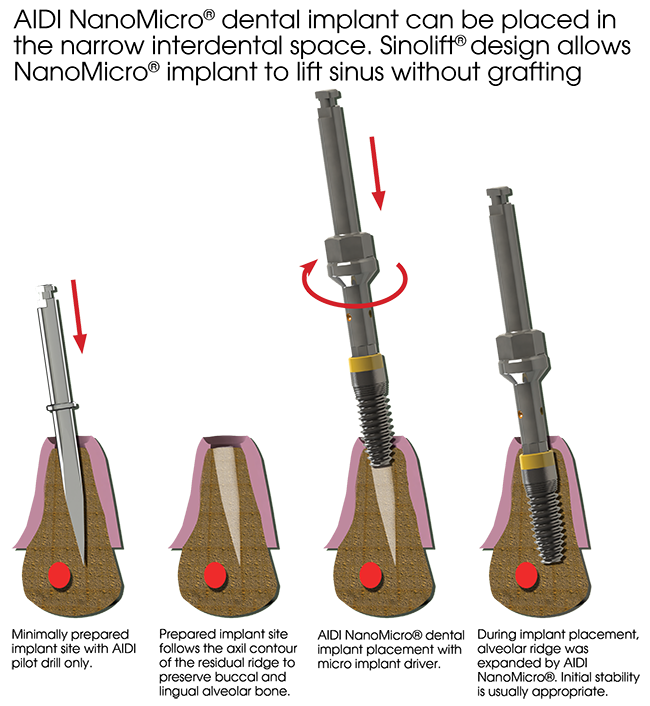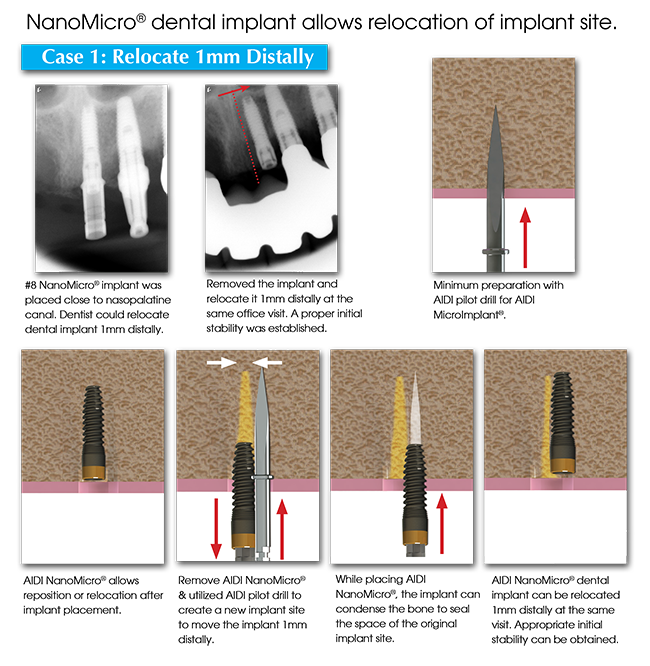 Drilling Sequence AIDI Dental Implants
AIDI pilot drill and twist drills:
AIDI twist drills, as well as their corresponding depth markings to AIDI dental implant system's length.
Bone Quality, Implant Diameter and Drill Selection
Three factors in first-stage surgery may be considered after assessing bone quality in order to achieve initial stability and osseointegration:
The diameter of the implant
The diameter of the drill when preparing the site
The healing period
If the recommended drill diameter (see above) sequence is regarded as the basis of most treatment situations, the following alternatives are available.
In soft bone, a narrow twist drill is used to give the seating of the implant more resistance.
More torque is necessary to overcome the resistance of the bone when a smaller preparation is made, resulting in higher initial primary stability.
A minimum drilling in Type IV quality of bone is recommedned. It really depends on surgeon's experience and skill to modify under different clinical situations.
Bone Quality
Bone Quality is Usually Categorized as Follows:
Type 1
Almost the entire jaw is comprised of homogeneous compact bone.
Type II
A thick layer of compact bone surrounds a core of dense trabecular bone.
Type III
A thin layer of cortical bone surrounds a core of dense trabecular bone of favorable strength.
Type IV
A very thin layer of cortical bone surrounds a core of low density trabecular bone.
1. Branemark Pl, Lekholm U and Zarb GA, Albrektsson T. (eda) Tissue-Integrated Prostheses. Quintessence Publishing Co. 1985, p. 202.
SUGGESTED DRILL SELECTION AND DRILL SEQUENCE
Drill selection and sequence is depends on surgeon's skill and experience.
*Do not use for Type 4 – Not for Indication
IDI® Dental Implant Packages



Includes: Implant and Cover Screw

 shop online 

FOR SUPPORT | 877.345.2434

Product Number
Description
Implant Pack-3.0 mm Diameter Platform 3.3 mm Body Width
IDI-1233-088
3.3 X 8.8 mm Implant
IDI-1233-105
3.3 X 10.5 mm Implant
IDI-1233-135
3.3 X 13.5 mm Implant
IDI-1233-160
3.3 X 16.0 mm Implant
Implant Pack-3.0 mm Diameter Platform 3.7 mm Body Width
IDI-1237-088
3.7 X 8.8 mm Implant
IDI-1237-105
3.7 X 10.5 mm Implant
IDI-1237-135
3.7 X 13.5 mm Implant
IDI-1237-160
3.7 X 16.0 mm Implant



Practice Building Kit

Includes: Implant, Cover Screw, Fixture Mount Abutment, Abutment Screw and Replica

 shop online 

FOR SUPPORT | 877.345.2434

Product Number
Description
Practice Building Kit-3.0 mm Diameter Platform 3.3 mm Body Width
IDI-1233-088-AL
3.3 X 8.8 mm Implant
IDI-1233-105-AL
3.3 X 10.5 mm Implant
IDI-1233-135-AL
3.3 X 13.5 mm Implant
IDI-1233-160-AL
3.3 X 16.0 mm Implant
Practice Building Kit-3.0 mm Diameter Platform 3.7 mm Body Width
IDI-1237-088-AL
3.7 X 8.8 mm Implant
IDI-1237-105-AL
3.7 X 10.5 mm Implant
IDI-1237-135-AL
3.7 X 13.5 mm Implant
IDI-1237-160-AL
3.7 X 16.0 mm Implant

Practice Building Kit Package includes implant, fixture mount abutment,replica, abutment screw and cover screw.

-AL package includes long fixture mount abutment;

Package includes implant, fixture mount abutment, abutment screw, cover screw and replica.



ECO Practice Building Kit

Includes: Implant, Cover Screw, Fixture Mount Abutment and Abutment Screw

 shop online 

FOR SUPPORT | 877.345.2434

Product Number
Description
Eco Practice Building Kit-3.0 mm Diameter Platform 3.3 mm Body Width
IDI-1233-088-BL
3.3 X 8.8 mm Implant
IDI-1233-105-BL
3.3 X 10.5 mm Implant
IDI-1233-135-BL
3.3 X 13.5 mm Implant
IDI-1233-160-BL
3.3 X 16.0 mm Implant
Eco Practice Building Kit-3.0 mm Diameter Platform 3.7 mm Body Width
IDI-1237-088-BL
3.7 X 8.8 mm Implant
IDI-1237-105-BL
3.7 X 10.5 mm Implant
IDI-1237-135-BL
3.7 X 13.5 mm Implant
IDI-1237-160-BL
3.7 X 16.0 mm Implant

ECO Package includes implant, fixture mount abutment, abutment screw and cover screw.

-B package includes short fixture mount abutment;

-BL package includes long fixture mount abutment;